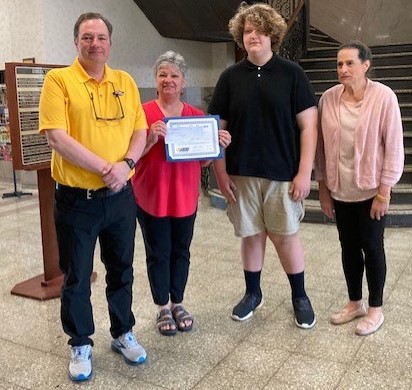 Edison Middle School student Landon Henthorn received an Honorable Mention Award in the 2022 County Commissioners' Association of West Virginia National County Government Essay Contest. His sponsoring teacher was Leila Marlow (right). The award was presented Monday by a representative of the County Commissioners' Association of West Virginia and Wood County Commission President Blair Couch.
Each year April is designated as "National County Government Month" and the CCAWV hosts the annual essay contest for 8th grade students across West Virginia.
Henthorn also received $50 for his Honorable Mention recognition.
One of CCAWV's goals is to increase information and public awareness about county government and the office of County Commissioner. The goal of this initiative is to partner with West Virginia educators to encourage students to learn and write about their local county governing body, the County Commission.
Participants are asked to type a 500-word essay on the topic, "How does my county commission make life better for me?"
The contest is open to all 8th grade students who are enrolled in a West Virginia public or private school.