On behalf of the men and women that make up the Wood County Office of the Sheriff, I would like to welcome you to our website.
This website was designed to heighten awareness of all services that the Wood County Sheriff's Office provide for our citizens.
The Wood County Sheriff's Office was formed in 1799. For over 200 years the Wood County Sheriff's Office is rich in tradition, honor and bravery.
The professionalism and dedication to duty of our uniformed and non-uniformed members have always made me very appreciative to be a part of what they represent. Whether working a murder investigation or a vehicle accident our professionalism shines through. I feel that because of that spirit shown by our people we are second to none.
Thank you for your interest in our website and the Wood County Sheriff's Office.
*Employment applications will open as fillable PDF documents. For best results, save the document(s) to your computer and open them in Adobe Acrobat Reader instead of viewing in your web browser. Adobe Acrobat Reader can be downloaded free from www.adobe.com*
Stay Up-to-Date
Follow us on Facebook to stay up-to-date on all the latest information from the Wood County Sheriffs Department.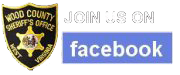 Duties of the Sheriff's Office
The Wood County Sheriff's Office has many duties. It is responsible for collecting taxes, civil process service, enforcing the law, providing security for local courts, provides road patrol to the rural areas of Wood County, overseeing the Holding Center, and transporting prisoners to the Regional Jail. The Sheriff's Office is comprised of 37 Deputies, including the Sheriff, Rick Woodyard, and 11 Contract Oficers. Tax collection is now done at the newly renovated Judge Black Annex (Previously Town Square).
Tax Operations
The Wood County Sheriff's Tax Office is responsible for the collection of Real Estate and Personal Property Taxes, mailing of the tax statements in July. Delinquent real estate taxes and Redemptions will be handled in our lobby per the recent passage of Senate Bill 522. We offer one year renewals for automobile registration and a convenient drive-thru for tax payments only. The Tax Office distributes tax funds to county, municipalities and schools; receipts are supplied with payment showing distribution. For questions or concerns, please contact the Tax Office via phone at 304-424-1910.
To Pay Real or Personal Property Taxes:
Several options are available for paying your taxes.
Payment can be made in person at the Tax Office located at 319 Market Street, Parkersburg, WV 26101 in the Judge Black Annex between the hours of 8:30am-4:30pm Monday through Friday, with the exception of holidays.
Payments can be mailed to:
Sheriff of Wood County
PO Box 1985
Parkersburg, WV 26102
Pay online via our Online Tax Inquiry (Credit/Debit Card processing fees apply)
An after-hours drop box is located next to the drive-thru window which is located in the covered alleyway at the rear of the building (the entrance is accessed via 4th Street).
Methods of payment accepted are cash, personal checks (DMV payments excluded), and money orders. Credit and debit cards are accepted both for online and in person payments. Please be aware that the processing company charges a 2.35% of the total tax ticket to pay with credit and debits cards.
Due to an increase in check returns the only payments that will be accepted for DMV Registration Renewals are a Cashier's Check, Cash, or Credit Card.
WE DO NOT ACCEPT PAYMENTS BY PHONE
Click here for 2022 Levy Rates
Please Note: All real estate taxes that remain delinquent as of October 31 will be certified to the State of West Virginia to be sold at a later date by the State Deputy Land Commissioner. Two weeks before the Delinquent Tax Sale, the only methods of payment accepted are cashier's checks, money orders, and cash. This restriction is only in effect for the two weeks preceding the Delinquent Tax Sale and only affects delinquent payments.


RUOK
The "Are You OK" program is possible by a grant awarded by the Parkersburg Area Community Foundation; fund from the Wood County Sheriff's Concealed Weapons Fund; and support from the Wood County Commission.
Are You Ok?
Now "at risk" individuals or adults with a disability in Wood County can feel safer and more secure with a daily phone call to confirm all is well or to summon Assistance if needed. This is a free service provided by the Wood County Sheriffs Office
How does the "Are You OK" Program Work?
Any automatic system will call you, same time everyday, you choose the time.
System is voice-activated, only say "Hello".
You will hear the following message, "This is the Wood County Sheriffs Office, "Are You OK?" program".
If you are OK, you will be given a specific number to press on your phone.
Once you press the number requested the computer will know that you are OK.
After 4 unsuccessful attempts, an emergency contact is alerted and sent to your residence to check on you.
You will need to call if you will not be home at the time we are set up to call you.
Who will Benefit?
Anyone with limited mobility
Anyone who is hearing impaired
Anyone who is vision impaired
Anyone who is speech impaired
Anyone with a physical disability
Seniors living at home without any family in the area
Anyone with special requirements
JOIN "Are You OK" Today!
Sign up and complete a confidential information form
You will be asked for your date of birth or social security number
We will ask for emergency contacts, pets in house, doctors, clergy, and a brief medical history
This is a program supported by many agencies and we want to help you. We are very proud of the system!
To enroll or obtain additional information regarding this service, please call the Wood County Sheriffs Office at 304.424.1834
Suspicious Activity Hotline
Wood County Office of the Sheriff Suspicious Activity Hotline and Email
Administrative Operations
The Office of Administrative Operations is the hub of the Wood County Sheriff's Office. Whether it be payroll, uniforms, vehicles, fuel, court systems, training, office supplies or equipment we keep each division of the Sheriff's Office running.
Administrative Assistant
Teresa Wade
Teresa Wade joined the Wood County Sheriff's Office in 1989 under the then Sheriff Steve Greiner. Teresa has a bachelor's degree in Business Management from Ohio Valley College and became the first certified law enforcement criminal analyst in the state of West Virginia in 2013.
Home Confinement
Supervisor
Kent Stephens
kstephens@woodcountywv.com
401 2nd Street Suite 11
Parkersburg, WV 26101
Phone
(304) 424-1951
Hours of Operation
Monday – Sunday: Around the Clock
Wood County was the first county in the state to implement a Home Confinement Operation. This operation began in the late 1980's. Stephen George (adult probation) and Arthur Gustke (circuit judge) at the time, were instrumental in starting the home confinement program. Inmates that qualified were placed on home confinement monitoring in lieu of serving time in the regional jail, reducing the cost of inmate maintenance for the county.
Public Safety Operations
Public Safety Operations are divided into two divisions. The first is Major Crimes which is overseen by Lt. Camille Waldron. The second is Uniform Operations which is overseen by Lt. Dave Bussy.
Major Crimes
The Wood County Sheriff's Office Major Crimes Unit is involved in the investigation of most of the felony cases, and some serious misdemeanor cases, which are reported to the Sheriff's Office. These include Homicide, Kidnapping, Abduction, Armed Robbery, Sexual Assault, Sexual Abuse, Malicious Assault, Arson, Burglary, Breaking and Entering, Grand Larceny and other serious offenses. Additionally, the Major Crimes Unit investigates crimes committed by juvenile offenders and cases where a parent fails to pay Court Ordered Child Support.
The Major Crimes Unit responds to the scene of the crime and processes the scene. This might include taking photographs, developing latent fingerprints, collecting items of evidence which include blood, saliva and other bodily fluids which might contain blood type and/or a DNA profile. Strands of hair and other tissue can also be used to determine the blood type and/or DNA profile of a suspect. The Major Crimes Unit is responsible for maintaining the Chain-of-Custody of the evidence from the time it is collected, until the conclusion of the case.
The investigators focus on determining the facts surrounding a crime and arresting the perpetrator. This includes interviewing victims, witnesses and suspects and evaluating those statements to help bring the case to the proper conclusion.
The Major Crimes Unit is comprised of one Lieutenant, one Sergeant, and four Deputy Sheriffs, including two of which are assigned as agents with the Parkersburg Narcotics Task Force.
The members of the Major Crimes Unit have over 125 years of combined law enforcement experience.
Uniform Operations
The Patrol Division of the Wood County Sheriff's Office is made up of 36 Deputies and supervisors who are responsible for patrolling the 377 square miles and hundreds of miles of roads and highways that make up Wood County.
Deputies are on duty 24 hours a day, seven days a week and respond to a variety of calls including vehicle crashes, residential and business alarms, and domestic disputes. In addition to responding to calls for service, Deputies serve warrants and court orders and are constantly on the lookout for impaired drivers, suspicious persons, or any type of criminal activity.
Current Job Openings
Court Services Transport Officer
Civil Process
The Wood County Sheriff's Civil Process Division is made up of a Deputy Sheriff In Charge, Civil Process Deputies and a Civil Process Clerk. They are responsible for all legal paper process service from the Wood County Circuit Court or the Wood County Magistrates Office and process service received from outside agencies.
Paper process served include witness subpoena's, civil complaints, subpoena duces tecum, summons complaints, unlawful detainers, notices, orders, petitions, motions, suggestions and ex parte (jury notices), judgments, writ of execution and writ of possession, suggestee executions.
All process served is entered into Wood County Sheriff's Office records and personally delivered by the Deputy Sheriff In Charge and/or the Civil Process Deputies. The Civil Process service ranges from forty to eighty pieces of process served daily.
Tax Office
Chief Tax Deputy
Camille Waldron

Location
The Judge Black Annex
Phone
(304) 424-1910
Email
cwaldron@woodcountywv.com
Hours of Operation
8:30am-4:30pm
Tax Office Mailing Address
Sheriff of Wood County
P.O. Box 1985
Parkersburg, WV 26102
Home Confinement
Supervisor
Kent Stephens

Phone
(304) 424-1951
Email
kstephens@woodcountywv.com
Hours of Operation
Monday – Sunday: Around the Clock
Mailing Address
401 2nd Street Suite 11
Parkersburg, WV 26101
Administrative Operations
Administrative Operations
Teresa Wade

Location
401 2nd Street Suite 11
Phone
(304) 424-1834

Email
tjwade@woodcountywv.com
Mailing Address
401 2nd Street Suite 11
Parkersburg, WV 26101
Hours of Operation
Monday – Friday 8:00am – 4:00pm
Suspicious Activity Tip Line